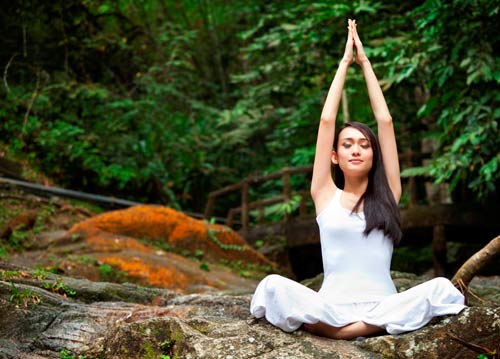 "Harmonise your body movements with your breathing through Vinyasa Flow Yoga!"
Vinyasa Flow Yoga or Yoga Flow is quite possibly the most varied of all yoga classes, but if there's at least one standardise movement, then it would normally be the Sun Salutations. You can expect both movements and stretching in Vinyasa Flow Yoga. With regards to the pace of the lesson, it depends on each individual teacher. However, since we offer private yoga classes, the teacher will be able to cater to your needs!
What does "Vinyasa" mean?

"Vinyasa" in Sanskrit simply means "breath-synchronised movement". In layman terms, this means that the instructor will guide you through each motion via inhaling and exhaling. Sometimes, it is also known as just Flow Yoga because of the smooth transitions between every move, making it like a dance movement.
What is the purpose of Vinyasa Yoga?

Vinyasa Flow Yoga focuses on diversity. There is no specific guideline for teachers to follow. This makes it extremely personalised to each individual. The main purpose of Vinyasa Flow Yoga is to keep your body loose and encourage more movements.
What are the benefits of Vinyasa Yoga?
Purify Organs

By practicing Vinyasa Flow Yoga, your body will produce internal heat. This heat helps to get rid of those unwanted toxins through sweat. It also helps in stimulating blood flow to your whole body.
Increases Flexibility & Strength

Just like any other forms of yoga, Vinyasa Flow Yoga helps to improve your flexibility, strength and assist in weight management.
Maintain Control Over Body

Perhaps the added advantage of Vinyasa Flow Yoga is that it helps you to stay in control of your body through the breathing methods used. This means that you'll learn to relax both your mind and body, enabling your organs function better.
Fees
The lesson fee shown below is fixed and nett. We DO NOT charge GST or any other hidden cost.
---
Fixed Schedule Class Rates:
| | | |
| --- | --- | --- |
| Pax | 1 Class | 4 Classes |
| 1 | S$100 | S$300 |
| 2 | S$125 | S$360 |
| 3 | S$150 | S$420 |
| 4 | S$180 | S$480 |
| | | |
| --- | --- | --- |
| Pax | 8 Classes | 12 Classes |
| 1 | S$560 | S$780 |
| 2 | S$680 | S$960 |
| 3 | S$800 | S$1,140 |
| 4 | S$920 | S$1,320 |
---
Flexible Schedule Class Rates:
| | | |
| --- | --- | --- |
| Pax | 4 Classes | 8 Classes |
| 1 | S$380 | S$720 |
| 2 | S$440 | S$840 |
| 3 | S$500 | S$960 |
| 4 | S$560 | S$1,080 |
| | |
| --- | --- |
| Pax | 12 Classes |
| 1 | S$1,020 |
| 2 | S$1,200 |
| 3 | S$1,380 |
| 4 | S$1,560 |