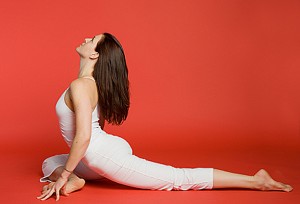 "Start your recovery journey with Therapy Yoga!"
Therapy Yoga targets individuals who are recovering or living with injury or illness. It's basically a mix of restorative yoga, gentle yoga, breathing, poses and meditation that focuses on the physical and mental conditions. Therapy Yoga is a great choice for those seeking a gentle workout, but at the same time, looking for balance in the body and to reduce stress. Therapy Yoga sessions are also customised differently for every individual to cater to their needs.
What does "Therapy" mean?

Therapy actually means a form of healing treatment. There are many different types of therapies available to combat various health conditions and illnesses. Therapy Yoga basically emphasises on the health and wellness of all aspects of an individual, be it physical, psychological or spiritual. It is extremely useful for individuals with health issues and even athletes.
What is the purpose of Therapy Yoga?

The aim of Therapy Yoga is to assist individuals who are facing health challenges at any stage to manage their condition, reduce the symptoms, increase their vitality and improve their attitude. Therapy Yoga also brings balance to both the body and the mind.
What are the benefits of Therapy Yoga?

Therapy Yoga is normally viewed as applicable to only those who are suffering from certain health problems. However, many individuals are unaware that Therapy Yoga adapts to different health problems in a distinctive way. This allows those practicing it to receive the full benefits from it.

Natural Healing

As Therapy Yoga is more natural as compared to prescribed medications from doctors, it makes it healthier towards our bodies.
Good Form of Exercise

Therapy Yoga is ideal for conditions such as pregnancy, child birth and even for the elderly.
Improves Mood

Practicing Therapy Yoga can provide you with a peace of mind.
Prevent Injuries

When individuals recovering from injury take on Therapy Yoga, theyyou will soon realise that it helps to prevent injuries from resurfacing.
Fees
The lesson fee shown below is fixed and nett. We DO NOT charge GST or any other hidden cost.
---
Fixed Schedule Class Rates:
| | | |
| --- | --- | --- |
| Pax | 1 Class | 4 Classes |
| 1 | S$100 | S$300 |
| 2 | S$125 | S$360 |
| 3 | S$150 | S$420 |
| 4 | S$180 | S$480 |
| | | |
| --- | --- | --- |
| Pax | 8 Classes | 12 Classes |
| 1 | S$560 | S$780 |
| 2 | S$680 | S$960 |
| 3 | S$800 | S$1,140 |
| 4 | S$920 | S$1,320 |
---
Flexible Schedule Class Rates:
| | | |
| --- | --- | --- |
| Pax | 4 Classes | 8 Classes |
| 1 | S$380 | S$720 |
| 2 | S$440 | S$840 |
| 3 | S$500 | S$960 |
| 4 | S$560 | S$1,080 |
| | |
| --- | --- |
| Pax | 12 Classes |
| 1 | S$1,020 |
| 2 | S$1,200 |
| 3 | S$1,380 |
| 4 | S$1,560 |