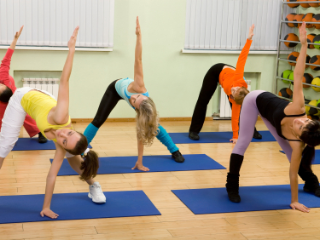 "Develop your body, mind and soul uniformly through Pilates Matwork!"
Pilates is a form of exercises and techniques founded by Joseph Pilates in 1914. Pilates Matwork is a sub-section of Pilates that involves a set of exercises done on the floor without assistance from a Pilates machine. It focuses on the movements and core muscles similar to that on a Pilates machine. All that is required is a yoga mat or any sort of exercise mat.
What is the purpose of Pilates Matwork?
Pilates Matwork aims to enhance your physical strength, endurance, flexibility and posture. This includes working out core muscles such as that of your abdomen and back. Aside from that, Pilates Matwork also targets on improving your mental awareness.
What are the benefits of Pilates Matwork?
By doing Pilates Matwork, you're actually exercising your whole body. Unlike many exercises that concentrate on only one area of the body, Pilates Matwork does not just focus on a certain area.
Pilates Matwork is suitable for people of different fitness level and requirements. It has over thousands of possible exercises and modifications, which can be tailored to your needs in private lessons.
Promotes Better Blood Circulation
Pilates Matwork helps in generating your energy capacity. Unlike your usual exercises where you will get tired the more you exercise, Pilates Matwork builds up your momentum. This means that the more you practice, the more you would want to continue. Through Pilates Matwork, your spine and muscle will get stimulated, enhancing the function of your organs.
Fees
The lesson fee shown below is fixed and nett. We DO NOT charge GST or any other hidden cost.
---
Fixed Schedule Class Rates:
| | | |
| --- | --- | --- |
| Pax | 1 Class | 4 Classes |
| 1 | S$100 | S$300 |
| 2 | S$125 | S$360 |
| 3 | S$150 | S$420 |
| 4 | S$180 | S$480 |
| | | |
| --- | --- | --- |
| Pax | 8 Classes | 12 Classes |
| 1 | S$560 | S$780 |
| 2 | S$680 | S$960 |
| 3 | S$800 | S$1,140 |
| 4 | S$920 | S$1,320 |
---
Flexible Schedule Class Rates:
| | | |
| --- | --- | --- |
| Pax | 4 Classes | 8 Classes |
| 1 | S$380 | S$720 |
| 2 | S$440 | S$840 |
| 3 | S$500 | S$960 |
| 4 | S$560 | S$1,080 |
| | |
| --- | --- |
| Pax | 12 Classes |
| 1 | S$1,020 |
| 2 | S$1,200 |
| 3 | S$1,380 |
| 4 | S$1,560 |