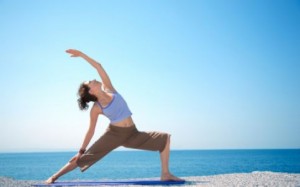 "Learn to relax and ease your tension with Gentle Yoga!"
Gentle Yoga is a type of yoga that isn't as intense and tedious as compared to other forms of yoga. Hence, it can be extremely helpful for individuals who aren't able to perform in the other styles of yoga. In other words, Gentle Yoga is suitable for pregnant ladies, senior citizens, those who are recovering from injuries, those who aren't in their best physical condition or simply those who prefer a more relaxed workout.
What does "Gentle" mean?

Gentle on its own simply means having a mild nature. Gentle Yoga involves a slight modification of the standard Hatha Yoga poses, allowing it to have lesser strain on one's body. At the same time, those practicing it would not be required to go as deep in each posture. This makes it easier to be performed.
What is the purpose of Gentle Yoga?

Gentle Yoga focus on incorporating poses from Hatha Yoga so that anyone and everyone will be able to partake in it. By doing this, it allows everyone to be able to experience yoga and benefit from it.
What are the benefits of Gentle Yoga?

Although Gentle Yoga may be viewed as rather light compared to the other forms of yoga, it doesn't lack in providing you with various benefits. Furthermore, it helps to get you prepared if you decide to practice other types of yoga in future.

Develop Growth

Unknown to many, Gentle Yoga actually helps to build up the bones and the muscles.
Enhance Immunity System

Gentle Yoga prevents us from falling ill or contacting diseases too easily.
Improves Energy Flow

By practicing Gentle Yoga, you will have an additional supply of oxygen to your system and purified blood circulation.
Maintains Youth

Probably the most enticing benefit to many is that Gentle Yoga keeps the body supple and delay the aging process.
Fees
The lesson fee shown below is fixed and nett. We DO NOT charge GST or any other hidden cost.
---
Fixed Schedule Class Rates:
| | | |
| --- | --- | --- |
| Pax | 1 Class | 4 Classes |
| 1 | S$100 | S$300 |
| 2 | S$125 | S$360 |
| 3 | S$150 | S$420 |
| 4 | S$180 | S$480 |
| | | |
| --- | --- | --- |
| Pax | 8 Classes | 12 Classes |
| 1 | S$560 | S$780 |
| 2 | S$680 | S$960 |
| 3 | S$800 | S$1,140 |
| 4 | S$920 | S$1,320 |
---
Flexible Schedule Class Rates:
| | | |
| --- | --- | --- |
| Pax | 4 Classes | 8 Classes |
| 1 | S$380 | S$720 |
| 2 | S$440 | S$840 |
| 3 | S$500 | S$960 |
| 4 | S$560 | S$1,080 |
| | |
| --- | --- |
| Pax | 12 Classes |
| 1 | S$1,020 |
| 2 | S$1,200 |
| 3 | S$1,380 |
| 4 | S$1,560 |