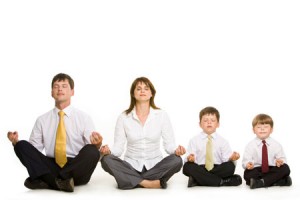 "A Family that practices Yoga together, stays together!"
Sometimes, finding a common activity for the entire family can be quite a bit of a challenge. Perhaps, Family Yoga can be the one that provides you and your family with a good bonding and interaction session. If your family is open to trying something novel and different, Family Yoga might just be what you are looking for!
| Pax | Fixed-Class | Flexi-Class |
| --- | --- | --- |
| 1 | S$240 | S$320 |
| 2 | S$300 | S$380 |
| 3 | S$360 | S$450 |
| 4 | S$420 | S$500 |
| | | |
| --- | --- | --- |
| Term | : | 4 sessions per month |
| Frequency | : | Once a week |
| Duration | : | 60 minutes |
| Location | : | Your home or any convenient place |
What is the purpose of Family Yoga?

Family Yoga looks to bring the family together to bond over a relaxing exercise. The idea behind Family Yoga is to provide a form of activity that the entire family is able to enjoy and engage in.

What are the benefits of Family Yoga?

When a family stick together, they have a higher chance of defying the odds.

Family Bonding

Family Yoga enables your family family to bond while keeping healthy at the same time.
Stress Relief

There are times when we do not share our problems with family. It can be rather stressful to tackle problems on our own, but Family Yoga can help each member to relief a significant amount of stress.
Unites Family

Sometimes we might not agree with our family on certain issues. Overtime, this can cause members to drift apart from each other. Family Yoga comes into play as it is able to unite the family by giving them a common ground.
---
Sign up for Private Yoga Classes Today!

To register for Ananda Yoga classes, simply click on "Register" and you'll be taken to the registration page.
You'll be required to fill in all your necessary particulars. After doing so, click on "Send" and await for a call from us.
We will try to get back to you as soon as we can to make further arrangements.