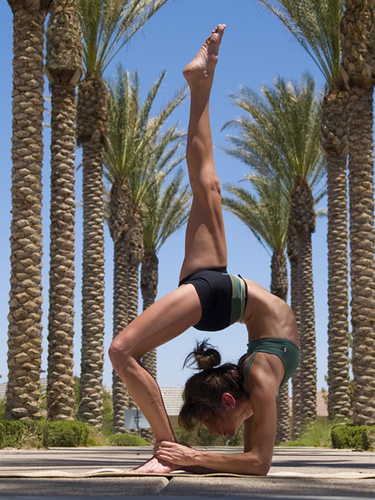 "Complete your physical and mental workout with Power Yoga!"
Power Yoga is a popular form of yoga especially in Western countries. In fact, Power Yoga is a modified version of Ashtanga Yoga. The sequences used in Power Yoga can sometimes be similar to that of Ashtanga Yoga. At other times, sequences may vary. Power Yoga focuses on more vigorous asana practices compared to other forms of yoga. It was created by Baron Baptiste, who combined together various forms of yoga traditions.
What does "Power" mean?

The name Power Yoga, suggests it all. It involves a powerful and vigorous full body workout from head to toe.
What is the purpose of Power Yoga?

Power Yoga aims to tap into the inner core of your power and help you to identify the different levels of power. They include, physical power, mental power and spiritual power. Ultimately, Power Yoga is for you to unite your body, mind, and spirit.
What are the benefits of Power Yoga?

By practicing Power Yoga, you'll soon realise that you are pushing yourself to your limits and beyond. This might be extremely challenging at first, but there are still many people who have overcame it.

Increases Strength, Stamina & Flexibility

By overcoming your difficulties in Power Yoga, you'll be able to achieve these benefits.
Better Focus

Power Yoga will definitely allow you to focus better in any task you set out to do.
Relief Stress

Through Power Yoga, you'll be able to relief yourself from tension and anxiety.
Stay Healthy & Fit

Since Power Yoga is one of the most rigorous forms of yoga, you'll be able to get rid of body toxins through sweat.
Fees
The lesson fee shown below is fixed and nett. We DO NOT charge GST or any other hidden cost.
---
Fixed Schedule Class Rates:
| | | |
| --- | --- | --- |
| Pax | 1 Class | 4 Classes |
| 1 | S$100 | S$300 |
| 2 | S$125 | S$360 |
| 3 | S$150 | S$420 |
| 4 | S$180 | S$480 |
| | | |
| --- | --- | --- |
| Pax | 8 Classes | 12 Classes |
| 1 | S$560 | S$780 |
| 2 | S$680 | S$960 |
| 3 | S$800 | S$1,140 |
| 4 | S$920 | S$1,320 |
---
Flexible Schedule Class Rates:
| | | |
| --- | --- | --- |
| Pax | 4 Classes | 8 Classes |
| 1 | S$380 | S$720 |
| 2 | S$440 | S$840 |
| 3 | S$500 | S$960 |
| 4 | S$560 | S$1,080 |
| | |
| --- | --- |
| Pax | 12 Classes |
| 1 | S$1,020 |
| 2 | S$1,200 |
| 3 | S$1,380 |
| 4 | S$1,560 |