Group Yoga Classes

Learn yoga and make new friends at the same time. At OMG Yoga, we have various group classes for all levels. Our yoga classes are conducted on a weekly basis in a progressive manner that suits the pace of everyone. With limited number of students in a class, we ensure that no one will be left behind. Our yoga instructors are all certified by schools recognised by Yoga Alliance, so you can be assured of quality yoga classes!
How Can Yoga Change Your Life?
Relax with Better Focus
A peaceful and clear mind helps you to see and analyse things in a holistic way. Learn how to relax in different life situations.
Serenity and Peace of Mind
Practicing Yoga in a comfortable and peaceful environment is important. This is why we have selected locations with quiet and peaceful surroundings. You will be able to feel the tranquility and serenity from the moment you step into the area.
Mixed Level
Our yoga classes are of mixed levels, ranging from beginners to more advanced students. This enables you to learn from others as well as challenge yourself to become better.
Class Details:
Select your favourite class by choosing different tabs.
Class Type
Yoga with Sound – Experience the therapeutic qualities of sound elements in this class through vocals and the playing of singing bowls. You are welcome to join in the singing if you feel comfortable. Feel the vibrations of sound restoring the balance of your body, mind and soul as you move through the classical postures of Hatha Yoga. The class will also include some brief moments of silence/meditation. It is intended to leave you feeling balanced, energised and refreshed at the end of the class.
Instructor – Jaszmine Lau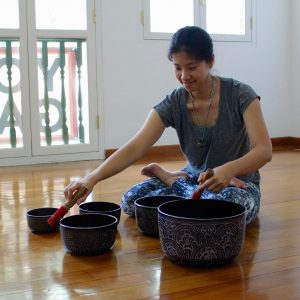 Jasz has learnt about yoga and healing therapies in Singapore, India, Australia and other parts of the world. She believes that yoga is for the well-being of everyone and would love to share the practice with all by helping people to see the beauty and benefits of the practice. She invites all to explore this inner journey together.
Jasz plays the singing bowls, the Chinese flute and other instruments for sound therapy, and incorporates the therapeutic qualities of sound in her signature "Yoga with Sound" class.
Venue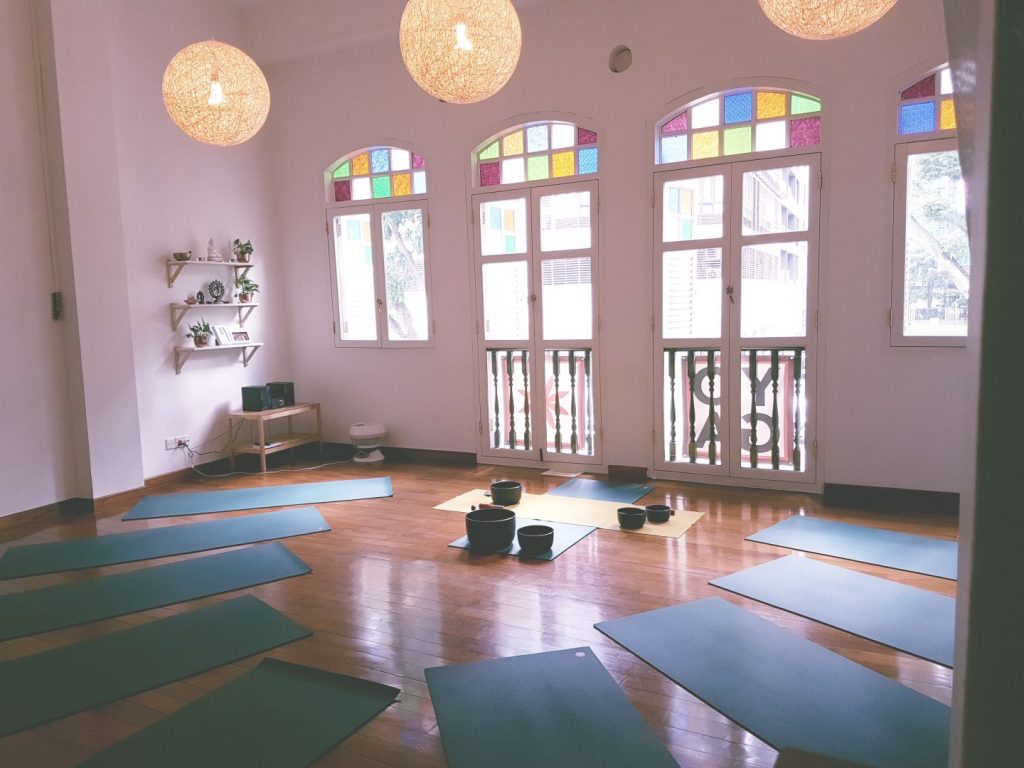 Petain Road (Nearest MRT station is Farrer Park)
Schedule & Duration
Saturdays 12:15 PM to 1:15 PM (60 minutes)
Fees
$90 for 5 classes
Facilities
Bathroom, changing room, water, tea, mats and yoga props
Things to Bring:
Water Bottle (Keep Hydrated)
Towel, Toiletries and Clothes (If you wish to shower)
A Sporting Attitude!
Sign up for Group Yoga Classes Today!