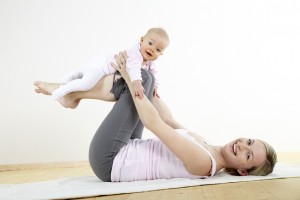 "Get Your Baby Started On A Healthy Lifestyle Alongside You"
Baby Yoga has been growing in popularity, especially in Western countries, over the past decade. In Baby Yoga classes, mothers will be involved and take part as well. In other words, it would be a refreshing workout for both the mother and the baby.
| Pax | Fixed-Class | Flexi-Class |
| --- | --- | --- |
| 1 | S$240 | S$320 |
| 2 | S$300 | S$380 |
| 3 | S$360 | S$450 |
| 4 | S$420 | S$500 |
| | | |
| --- | --- | --- |
| Term | : | 4 sessions per month |
| Frequency | : | Once a week |
| Duration | : | 60 minutes |
| Location | : | Your home or any convenient place |
What is the purpose of Baby Yoga?

Baby Yoga is a great method of building a mother-child relationship. At the same time, it keeps both the mother and the baby in the pink of health.

What are the benefits of Baby Yoga?

Baby Yoga is able to contribute benefits to both mother and baby. Furthermore, it can build a stronger bond between mother and baby as well as provide mothers with a better understanding of their baby.

Physical Benefits

In just a short session of Baby Yoga, the baby is able to receive the same amount of physical activity that otherwise would require a few hours.
Developmental Benefits

Through Baby Yoga, the entire body systems (including the digestive and nervous systems) of the baby will be stimulated. Such stimulation aids in development of the brain and nervous system.
Psychological Benefits

Baby Yoga is a great way of allowing the mother and child to get to know each other more through effective communication as well as non-verbal communication. It is through active interaction, that builds the foundation for social relations over the early years and beyond.
---
Sign up for Private Yoga Classes Today!

To register for Ananda Yoga classes, simply click on "Register" and you'll be taken to the registration page.
You'll be required to fill in all your necessary particulars. After doing so, click on "Send" and await for a call from us.
We will try to get back to you as soon as we can to make further arrangements.